Elegant and practical
The three foot long power-coated steel shaft keeps you at a nice, clean and safe distance from your fire, helping to avoid getting too close to the heat, smoke in your eyes, or singed eyebrows.
Manage your logs and coals
The double prongs at the end of the Firedragon are ideal for moving logs or raking coals.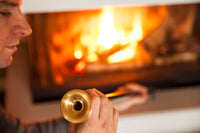 Blow poke directs oxygen into the heart of your fire
Made with a solid brass mouthpiece, the Firedragon helps you to blow air directly into your fire with comfort and control. Watch the flames jump to life with every breath.